MEET THE STAFF OF PATS AUTO, INC.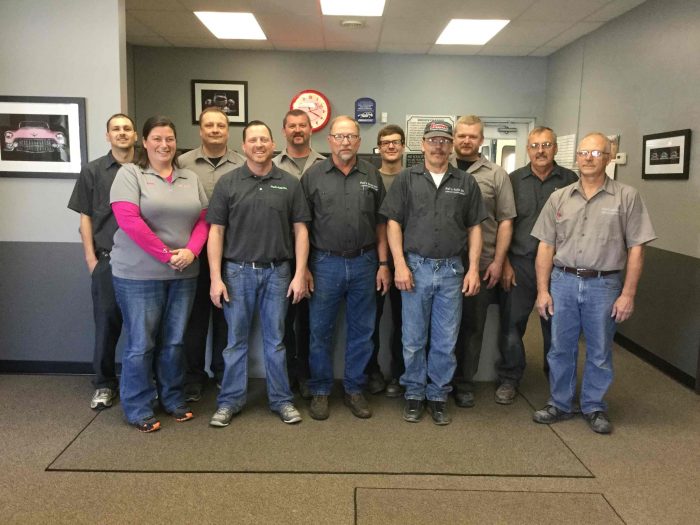 Patrick Brennan: Owner and President
Wendy Bissell: Office Manager
Michael Brennan: Body Shop Manager. Pat's son, estimate writer, and shop manager, working with his dad since he was 14 years old. Michael was brought up in the business. At the age of 13 he was here after school sweeping the floors and washing vehicles.  Now Michael is writing our estimates and running the back shop.
Brad Stanke: Auto Body Technician. Brad has worked in the auto collision repair business for over 15 years and is certified in I-CAR collision repair.
Scott Martin: Auto Body Technician. Scott has been with us since 1997 and he has been an auto body repair tech since 1974. Scott has seen several changes in the auto body industry. The biggest change has been in unibody structural repair.  Scott is I-CAR certified  in structural repair, unibody repair and is a certified welder.
Eric Bendele: Paint Technician.  Eric has worked in the auto collision repair business for five years.  He has always had a passion for cars.  Now he can put that passion into painting to the best of his ability.
Jason Inbody: Paint Technician. Jason has worked in the auto collision repair business for 15 years. He has advanced his way up the line to painting.  You can see how much he loves his job by the excellence of his work.
Mike Johnson: Auto Body Technician and paint technician. Over 30 years experience.
Paul Acre: Auto Detailer, with lots of detailing experience.
Katie Thompson: Asst. Office Manager 
Chris Barr: Auto Body Tech over 30 years experience 
These guys do an exceptional job!!!!! We only bring our cars to them and recommend them to everyone.
Primary Communities Served
Alma
Beebe
Breckendridge
Cedar Lake
Crystal
Edgewood
Edmore
Elm Hall
Elwell
Forrest HIll
Ithaca
McBride
Mt. Pleasant
North Star
Pleasant Valley
Shepherd
St. Louis
Stanton
Sumner
Vestaburg